Shopping Cart
Your Cart is Empty
There was an error with PayPal
Click here to try again
Thank you for your business!
You should be receiving an order confirmation from Paypal shortly.
Exit Shopping Cart
Illustrator, painter, comics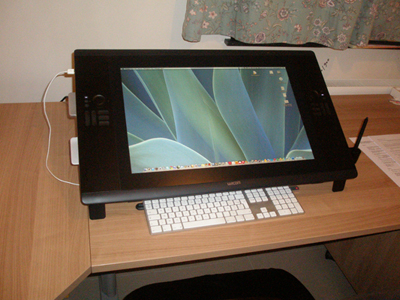 Oef ! Eindelijk dan toch de beslissing genomen om over te schakelen van een wacom tablet naar een cintiq. En wat voor één. Die beslissing voor de aanschaf van een cintiq had lang geduurd. De reden was dat ik aanvankelijk niet zo overtuigd was van de meerwaarde ervan. Ik werkte namelijk een zes tal jaar met een wacom tablet A3. En dat ging prima !  




Bij een wacom tablet moet je naar je computer scherm kijken, terwijl je je pen beweegt op het tablet. Je ziet als het ware een 'onzichtbare' hand tekenen of inkten op het computer scherm. Dat vergt in het begin enige oriëntatie oefening.




Wat heeft mij uiteindelijk dan toch doen beslissen om een cintiq aan te schaffen ? Verschillende redenen: Je kan rechtstreeks werken op het scherm van de cintiq. Niets nieuws zult u zeggen, maar de eerste cintiq schermen hadden volgens mij niet die kwaliteit die ik wél had met een wacom tablet. Bovendien waren de schermen veel te klein. 




De beeld kwaliteit, niet onbelangrijk. Zeker voor mijn ogen is het beter. Een andere reden is dat je vlotter kan werken.  Maar al deze dingen bij elkaar hebben pas een echte meerwaarde, wanneer je als tekenaar voldoende ervaring hebt met de potlood en pen op papier.
Tijdsbesparing - Je hoeft niet meer op en af te pendelen om de in potlood getekende platen te gaan op halen en vervolgens weer als ze geïnkt zijn, terug te bezorgen aan je collega. Dat kan binnen enkele minuten per e-mail gebeuren;  of je zet je werk op een server, waar je vooraf toestemming  voor hebt gekregen. 




Andere voordelen: Hoeveel keer moet je je pennetje of penceel,  als je op papier werkt, naar de inktpot brengen om weer verder te kunnen inkten ?   Niet  meer nodig met een digitale pen !

Wanneer de plaat digitaal geïnkt is, hoef je de potloodtekening niet meer uit te gommen. Eén muis klik volstaat.




Je werkt twee beeldschermen. PC en Cintiq. Op de PC kun je voorbeelden zetten om te tekenen/inkten/inkleuren. Op je cintiq heb je dan veel meer werkruimte.

Je behoud ook je originele potlood tekening. En dat is voor mij althans een groot voordeel. Persoonlijk leer je ook uit het (goede) tekenwerk van de meer ervaren collega's.
Een hele investering zul je misschien zeggen. Toegegeven, maar die heb je dan ook vlug terug verdient.  
De kwaliteit van het inkten op deze cintiq vind ik een duidelijke vooruitgang. Maar niet alleen inkten, ook inkleuren en zelfs tekenen met een digitale potlood. En deze materialen vind je in overvloed terug in Photoshop of andere teken programma's.
Nadelen ? Niet echt. Behalve de rotatie van het scherm gaat niet altijd zoals gewenst.
Zo !  En nu maar hopen dat ik geen stroompanne krijg !  


Categories: Cintiq 24" HD
/